Christmas Tree System
- Creator Update
We all know I can easily write walls of text, so I've tried to keep this brief, but theres a lot of info.
I know you all want to know what is going on with the Christmas tree updates, and why it wasn't released on the 1st as promised. I was so excited to release this, I even went and added the extra sim ready for it alongside the main one, so it's with great disappointment that I have to write this.
So last year there was issues with the christmas tree, not for everyone, but for a good number of people with the way the system unpacked the ornaments.
This meant people having to reset their tree scripts to get things to work correctly, sometimes multiple times.
Only a small part of last years system was database reliant, and that part worked super smoothly compared to the in world process.
What was changed and what went wrong?
I overhauled the whole system this year to have everything be HUD based.
To do so meant essentially creating my own vendor system, redelivery system, as well as the hud and all of the new tree decorations. Plus redesigning the tree itself to allow for groups of ornaments as well as single ones, and ombre foliage options.
All of this went perfectly, the part that was causing issues in testing was due to the sheer amount of ornaments to be released.
With a huge amount of ornaments, clicking through them all was not user friendly at all.
So I added a filtering system to sort between ornament types and colors, but this slowed down the HUD massively.
Why is it taking so long to fix this?
I had intended to release the updated tree as well as matching wreath and garland that would use the same ornaments, for FaMESHed on the 1st.
It got to the day before FaMESHed deadline and I had failed to get the hud to work with the filters in a remotely acceptable or optimized way.
So I had to shelve it all and rush to make new items for FaMESHed, then get to finishing up my items for Santa Inc right after it.
Then I had RL sessions to attend for one of my little ones who is starting primary school next year, which I had lined up for after my SL deadlines.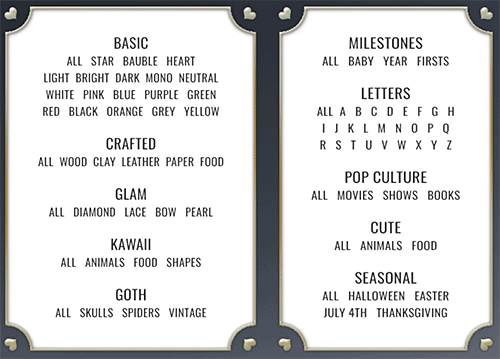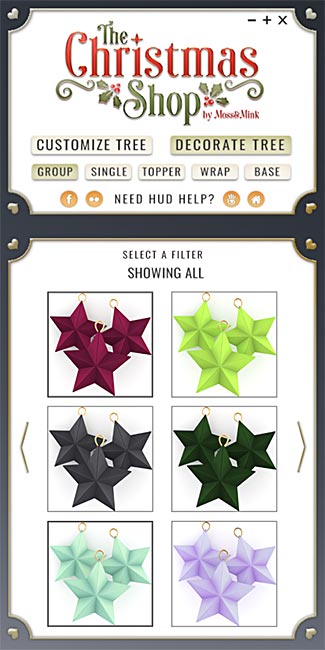 Why didn't you let us know?
It's now almost 2 weeks until christmas, and many amazing christmas trees have been released in SL in the meantime.
I honestly never expected that anyone would be waiting for me to complete this, especially when I failed to get it out by the time I promised, and I am extremely grateful to have customers who care so much.
Making that assumption was my fault, I let you all down, not just with not getting this done in time, but also by not keeping you in the loop when things did go wrong.
I'm am still working on getting this completed, I'm certainly not abandoning it, I have put an incredible amount of time into this already.
I honestly cannot make any promises on when though, or if it will get to the point I would be proud to hand over to you all in time for Christmas.
Can we just have last years things?
Some have asked to at least be able to buy the decoration from last year, so they can decorate the trees they already have.
So I've set up a small area in store with the items from last year, as they were with the old system scripting.
Because the purchases from last year were transferred to the new system I created, if you need a redelivery of them, there is a separate redelivery button in that area to get the items from last year redelivered.
Any purchases will go directly into the new system to be reflected on the HUD when it is in place.
Slurl: Christmas Space
As a way of saying I'm sorry for such a big mess on my behalf, I have setup a terminal in the store to give everyone 500L store credit for christmas.
Not just vip's, but everyone, so your friends and family can also enjoy this gift. Plus an extra 500L store credit for VIPs. Slurl: Xmas credit panels
Please note, the christmas tree items are on a separate vendor system, so won't work with the MD system store credits, but will work for anything else in the store.
Additionally, everyone who owns one of the original christmas trees will be given 500 tokens on their HUD when it is released to purchase additional ornaments via it.
Again, I can't promise that will be this year, but I will do the best I can to try and work out these filtering issues quickly, and put that extra sim to good use.
I understand many of you will have feelings and thoughts about this, and as always with everything, I welcome feedback, good or bad. The form below this will go directly to my email, which I will get faster than in world, as I check emails on my mobile frequently throughout the day.
Thank you all for caring so much, and to those of you that reached out and contacted me about this in the last couple of days.
<3 Cielo.